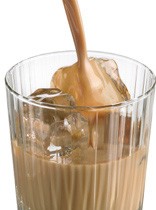 Our team will arrange everything on your behalf making Your Edible Party Event Simply Exquisite. We will turn up promptly and on time, and will set all of the party food up when the time is just right. This way, we know that you will truly enjoy mouth-watering and scrumptious treats without the worry of anything going wrong.
Talk to our friendly experienced team today and we'll book a consultation to discuss your individual requirements and show you the choice of delectable treats available.
Baileys Fountain
Are you ready for the shots? These are the best way to get giggly and to drink to your celebration with your guests. It's officially party season – Christmas, summer, spring and autumn, we know you don't particularly need an excuse for a celebration!
Our ready to drink Baileys Fountains are to help you get merry at whatever occasion you're at.  Each of our liqueur flavours are blended to bring the best taste shots to your party. They add a little bit of colour and a delicious taste to your party. Whether you are giving them away later on at your wedding celebration, are planning a stag and hen party, or having an adult (18+) birthday party then we can supply the best tasty Baileys Fountains to your party / event.
We will add these to your party hire when you choose us to arrange the rest of your fun party food and will deliver them ourselves when we arrive with the remainder of your order.
There is a time and a place to drink and be in high spirits and by planning ahead, you can ensure that your guests are provided with all the little things that will up a big evening. Whether you choose our exquisite Baileys chocolate fountain or you opt for our luxury champagne drinks fountain we will make sure that everything goes together perfectly.